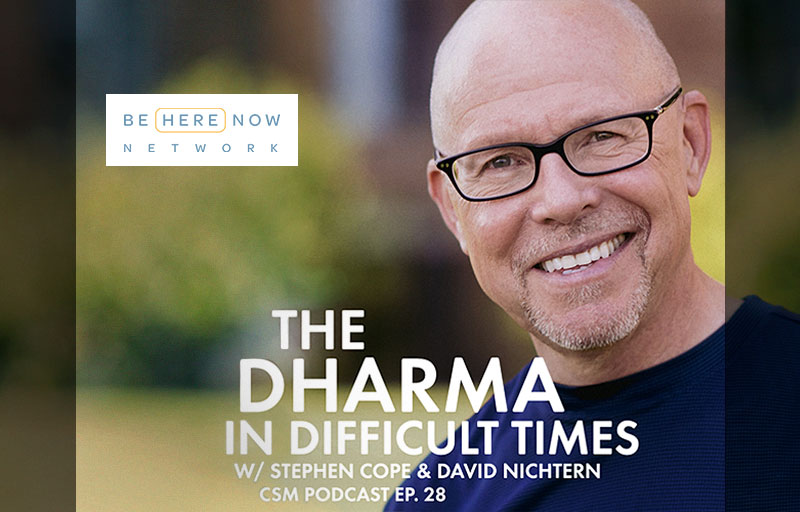 "Spiritual Renaissance Man, Stephen Cope, joins David Nichtern for a wide-spanning conversation connecting art, music, meditation, yoga, Trungpa Rinpoche, and dealing with critics."
Stephen recently spoke with David Nichtern on his podcast, "Creativity, Spirituality & Making a Buck," part of the Be Here Now Network.
Nichtern recently launched Dharma Moon – a website offering Workshops/Courses, Teacher Trainings, Mentoring & more, at www.DharmaMoon.com
Opening the episode, host Michael Kammers introduces bestselling author and Kripalu scholar, Stephen Cope, to the podcast. Sparking the conversation, David Nichtern invites Stephen to share how creativity, spirituality, and earning a living all play a role in his daily life as an established writer and yoga/mindfulness scholar and teacher. From here, they discuss how Stephen found the Dharma through Chögyam Trungpa Rinpoche, meditation, and Kripalu.
"When I arrived at Kripalu, yoga was still pretty fringe, and we decided in order to make it more mainstream, we had to have the imprimatur of actual science, we had to study what are the real effects, causes, and dosages—exactly what meditation is going through now." – Stephen Cope
Speaking to his music practice as a classical pianist, Stephen Cope recalls spontaneous impromptu jam sessions in the basement at Kripalu, where he noticed a deep underlying correlation between his yoga and meditation practice positively affecting his range of piano skills. Playing off of Trungpa Rinpoche's statement that, "Art is non-aggression," Stephen shares how we can apply wisdom from the Bhagavad Gita to help us in our creative practices and ventures.
"I'm a classical pianist. When I moved to Kripalu, there were two grand pianos in the basement, so I'm cutting vegetables during the day, and at night I'm sitting at the piano practicing. People would show up with other instruments and we'd jam. It was completely spontaneous. So, I started to notice that my concentration skills and the whole range of piano skills were profoundly enhanced when I was practicing a lot of yoga and meditation." – Stephen Cope
Listen to the full podcast and read more at Be Here Now Network: